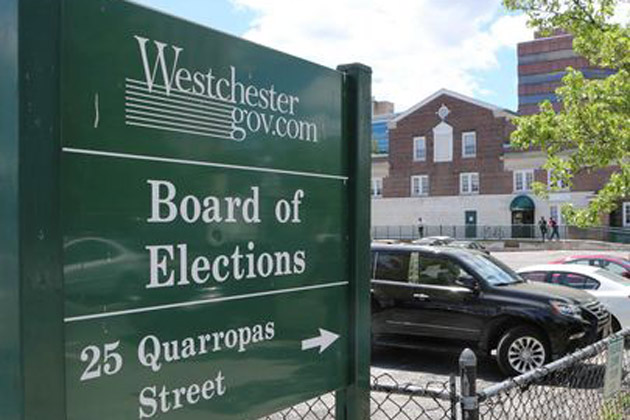 The Westchester County Board of Elections is dedicated to ensuring that all eligible residents have the opportunity to register and vote in our county.
We are committed to keeping you aware of changes to the election law and how those changes affect voting in Westchester. Our office is here to assist you in any way we can.
Westchester County works hard to enourage and protect your right to vote as a United States citizen. From the county's Board of Elections, you can find your polling place, register to vote or find out about absentee ballots. You can learn how to run for office or obtain county, state and federal financial disclosure statements.
For additional voting information, visit Vote411, an interactive Web site created and maintained by the League of Women Voters. The site supplies personalized ballots and polling locations simply by entering your home address.
Send your comments to the Board of Elections.
Poll workers are always needed
The Board of Elections is always looking for individuals who'd like to sign up to serve as poll workers. If you or anyone you know is interested, complete the Poll Worker Application form and return it to the BOE for consideration. If you cannot complete the fillable form on your computer, then print, complete and mail it to the address on the form. You may also fax the completed form to (914) 995-4603.
We are always looking for election inspectors.
Here's additional information about voting that may be of interest:
Voter Education

Information about the election process and voting machines. Know what to expect when you arrive at your polling place on Election Day. Starting September 2010, the county will be using new optical scan voting machines.

Campaign Finance Reports
This database contains all financial disclosure statements filed with the New York State Board from July of 1999 to the present. However, electronic filing is not mandatory in Westchester County.
NY State Board of Elections
Information on state laws, including financial disclosure. Information on running for office, including the filing of nominating petitions.
League of Women Voters of Westchester
The nonpartisan League of Women Voters has county and local chapters and is affiliated with state and federal chapters At election time, the League produces detailed listings of candidates and propositions.
Federal Elections Commission
The FEC administers and enforces federal campaign finance laws.