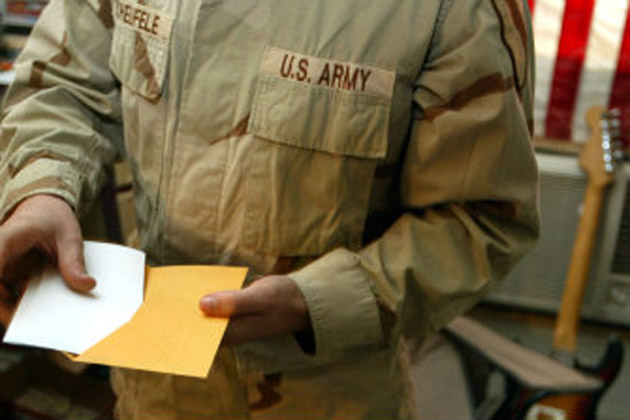 If you know you will not be in your voting district on a given election day, you may vote by absentee ballot.
Here is the list of reasons for voting by absentee ballot, as well as the deadlines for applying for and mailing your ballot



You may vote by absentee ballot if you will be:
Unavoidably absent from your county on election day
Unable to appear at the polls due to illness or disability
A patient in a veteran's administration hospital
Detained in jail awaiting grand jury action or confined in prison after conviction of an offense other than a felony.
Extended Office Hours to Obtain Absentee Ballots and Applications
Extended office hours are in effect in order to obtain absentee ballots and applications. You may print this page or download the extended hours notice to keep for reference.
These hours are for the purpose of obtaining an absentee ballot/application.
Tuesday, Oct. 25, until 8 p.m.
Thursday, Oct. 27, until 8 p.m.
Saturday, Oct. 29, from 9 a.m. to 2 p.m.
Tuesday, Nov. 1, until 8 p.m.
Thursday, Nov. 3, until 8 p.m.
Saturday, Nov. 5, from 9 a.m. to 2 p.m.
La Junta de Elecciones del Condado de Westchester estará abierta el
Esto es con el propósito de obtener una aplicación de voto ausente.

Martes 25 de Octubre hasta 8 p.m.
Jueves 27 de Octubre hasta 8 p.m.
Sábado 29 de Octubre de 9 a.m. hasta 2 p.m.
Martes 1 de Noviembre hasta 8 p.m.
Jueves 3 de Noviembre hasta 8 p.m.
Sábado 5 de Noviembre de 9 a.m. hasta 2 p.m
Absentee ballot application
When completing the application form, be sure to print clearly.
Upon completion of the absentee ballot application, you must mail it to the Board of Elections. Once we are in receipt of your application, a ballot will be mailed to you. Remember that an application for an absentee ballot is only valid for the calendar year of the request.
Designate someone to pick up your ballot
If you cannot pick up your ballot, or will not be able to receive it through the mail, you have the right to designate someone to pick up your ballot for you. Only that person designated on your application in section 6 and/or section 7 of your application may pick up and deliver your ballot.
If disabled or permanently ill
If you check the box indicating your illness or disability is permanent, once your application is approved you will automatically receive a ballot for each election in which you are eligible to vote, without having to apply again, unless you have moved and, therefore, you must reapply again.
Please note that a power of attorney or printed name stamp is not allowed for any voting purpose, including absentee applications
For additional information visit the New York State Board of Elections.